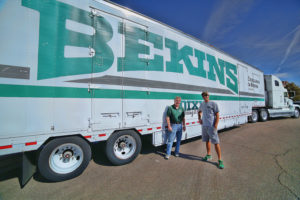 We were founded in 1977 in Cedar City, UT as Cedar City Moving & Storage. In 1980 we added a second office in St. George, UT where we operated as Dixie Moving & Storage. After several years of operating in two locations, we decided to move all operations to St. George all under the name of Dixie Moving & Storage. In 1990 we built our current warehouse and storage facility on Redledge Rd in Washington, UT. Here we have a 10,000 square foot building where we offer inside, secure vault storage. In addition to our main warehouse we have 23 10'x10' storage units available for monthly and long term rentals. Although we are located in Washington, we currently offer local moves throughout all of Southern Utah including Washington, Iron, Kane, and Sevier Counties. We also serve Northern Nevada as well as Northwestern Arizona. We also offer long distance moves to anywhere in the United States, Canada and overseas moves to anywhere in the world.
Our business has been family owned and operated since 1977 when we began. We have also been an agent for Bekins Van Lines since we started. We pride ourselves in providing the quality of service that can be expected from a family owned company with a personal touch as well as service that can be expected from a nationally known carrier like Bekins. Throughout our years as a moving company, our favorite part of the move is working with people from all walks of life. We understand the stress and struggles of a move and work to make our customers feel as comfortable as possible with a move that is hassle free. Regardless of the size of the home or building we are moving, we strive to provide the same level of service to all of our customers. Whether we are moving a parade home or a one-bedroom apartment, our crews will do their best to safely and carefully move the furniture and contents with care. We also pride ourselves on being able to safely move specialty items like grand pianos and gun safes to larger items like classic cars and recreational vehicles.
After all these years, we are still the movers to trust in Southern Utah!