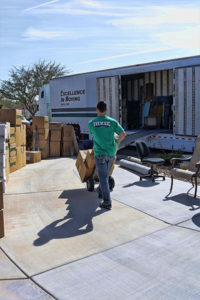 When it comes to getting the best value for your family, you can count on the professional movers at Dixie Moving & Storage. For more than 120 years, families across Washington, UT, have trusted us to assist them with their moves in Bekins Van Lines. With a new home, new community and new friends to make, moving can be an overwhelming experience. Our full-service moving company understand the anxiety and stress of moving, so we are with you every step of the way.
Whether you are moving across the country, or across the globe, we have the experience you need to get you there. You are not alone when you choose us over other moving companies in the Washington, UT, area. Your peace of mind is important to us, which is why our full-service moving company offers many helpful programs to assist you throughout the moving process. Speak with our professional movers to get a moving company quote today.
Moving Services Offered at Dixie
Our moving company has more than 250 independent Bekins Van Lines agents worldwide. These agents provide a variety of services from packing and loading to hauling and unloading. We aim to meet your individual moving needs, so we allow you to pick and choose services that fit your budget. As a full-service moving company, Dixie Moving & Storage can offer Washington, UT, residents the following:
Free upfront estimates
Flexible moving company quotes
Convenient payment options
Professional movers to coordinate the move
Expert packing, loading and hauling teams
Excellent customer service
Expansive network of agents, drivers and employees to assist you
Contact Our Professional Movers
From the salesperson that gives you an estimate to the driver that loads your belongings, you can be assured that they are equipped to handle the job. We far outshine other moving companies in the area with our commitment to exceptional customer service and efficient moving practices. For well over a century, Dixie Moving & Storage has cultivated a reputation that has established us as the ideal moving company for generations of families throughout Washington, UT. Call our professional movers at 435-628-2281 for a moving company quote.
---
We service the following cities and their surrounding areas: